Review of An Ah Beng A Day – Volume 2


A time to laugh and a time to share by Christine Khaw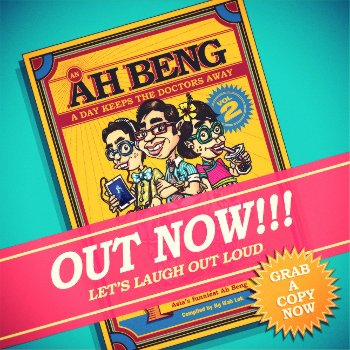 Those of us who chuckled endlessly at the antics of Ah Beng and his friends in "An Ah Beng a day keeps the doctors away" Volume 1 and waited patiently for Volume 2 will undoubtedly say that the wait was well worth it! For those who have yet to meet Ah Beng, his long suffering girlfriend Ah Lian and their more insightful friend, Ah Lok, a real treat is in store for you in Volume 2!
Attempt to follow Ah Beng's unique thinking processes and you may discover some deeply embedded rationality or decide that falling off your chair in peals of laughter may be the easier option! Ever endearing and with an innocence which some may recall from yesteryear, Ah Beng will lift your spirits up no end in just a few minutes!

Amidst his significant responsibilities, amazingly Ng Wah Lok found the time to put together some true gems for us. Join him in his merriment and discover the physical, mental and emotional benefits of a really good laugh! Rich and gorgeous barely describe the cartoons by Liyin Yeo. Stunningly do they capture the sentiments of the odd but charming trio!
Ticklish mirth and hilarity await you in Ah Beng Volume 2 so let our very own Asian comedian relax, revive and refresh you for the day! The season for giving beckons and what could be better than a generous gift of laughter in the season to be jolly? In season and out of season, take time to share sheer joy!